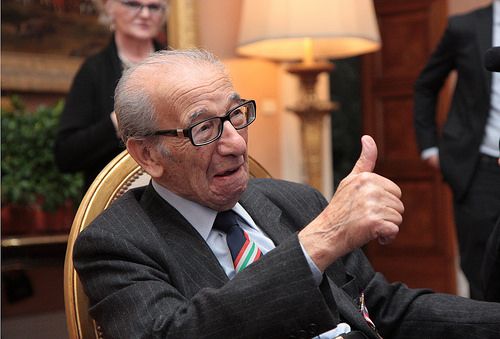 With great sadness the Association received the news of Harry Shindler's passing on February 21st at the age of 101. Harry was a tireless campaigner for the rights of British citizens living abroad, only last year he finally won his decade long battle to abolish the 15-year voting rule which states that British voters living permanently abroad, lose their voting rights after 15 years.
As a WW2 British veteran, Harry actively participated in the Anzio landings, a strategic conquest which led to the advancement of the allied forces and eventually the fall of fascist Italy. Harry was also very active in tracing the graves of fallen or missing British servicemen from World War Two.
The Association is particularly indebted to Harry for believing in the remarkable power of uniting British Expats and setting up the Association in May 2010 alongside 6 other founders. As a founding member, Harry made significant contributions to the committee's work during the early years. A truly remarkable man, he will be sadly missed by all.