On her 21st birthday, in a speech given during a tour of South Africa and broadcast by radio from Cape Town, Princess Elizabeth vowed to serve her country and the Commonwealth for the whole of her life. Significantly, perhaps, "God is my oath" is one of the meanings of the name Elizabeth, derived from the ancient Hebrew Elisheba. Little did she realise at that time how soon she was to be called on to succeed her father and honour that vow.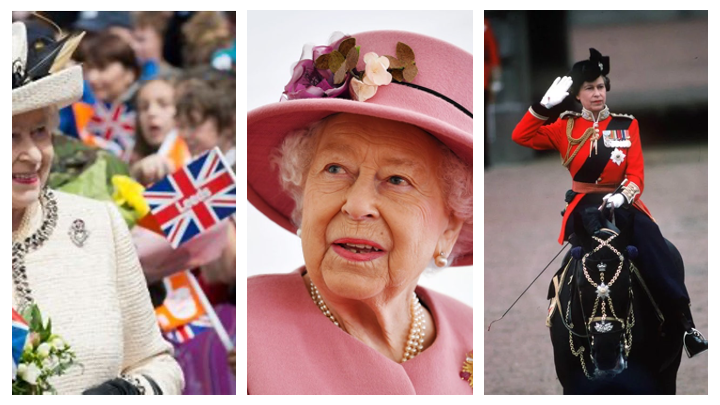 The coronation of Elizabeth II on 2nd June 1953 was a spectacular event, aired by BBC television in black and white. The J.Arthur Rank movie in Technicolor, A Queen is Crowned, was screened at cinemas everywhere and featured a commentary delivered with the crisp diction and vigorously rolled Rs of thespians and BBC announcers of that era.  
The dreary British weather on the day did not dampen enthusiasm. In the procession of carriages bearing Commonwealth leaders, one figure in particular stood out: the majestic Queen Salote of Tonga, six feet three inches tall. Undeterred by the rain, she smiled and waved to the cheering crowd.
The entrance of the young Queen into Westminster Abbey, at once regal and modest in her beautiful robes and diadem, was awe-inspiring. As she proceeded gracefully down the aisle, the choir burst into a glorious performance of Handel's Zadok the Priest. The words of the hymn were a reminder that the coronation was a religious service, firmly rooted in the tradition of anointing the kings of Israel:
Zadok the priest
And Nathan the prophet
Anointed Solomon king
And all the people rejoiced.
Because of its deep religious significance, the solemn anointing with precious oils by the Archbishop of Canterbury took place behind a screen. It was an electrifying moment for the Queen, who said that it transformed her.
Throughout her reign the Queen was widely admired and loved, but she also came in for severe criticism. A scandal erupted in 1957, when John Grigg, the 2nd Baron Altrincham, a liberal Conservative peer and author, wrote an article attacking the content of the Queen's speeches and her manner of delivery. He blamed the members of the Court, who came from the British upper classes and in his view did not reflect society.
Lord Altrincham's comments caused shock waves, though he insisted that they were intended as constructive advice. In order to ensure its survival, the monarchy had to keep pace with the changing twentieth century. "The boss", in his words, needed to know what was wrong and put it right.
It would appear that Mr Grigg's opinions did not go unheeded. One noticeable change was in the Queen's speeches. The traditional rhetoric composed by the monarch's speech writers gave way to a livelier and more modern style. Over time, the Queen's very refined royal pronunciation became softer and more relaxed. A very shy person, she now allowed herself to be less reserved, frequently revealing a dry sense of humour, yet never losing her flawless composure and grace. She stopped using her trademark "My husband and I".
The Queen had an explanation for those who accused her of being stiff and unsmiling. At times she was so moved by the people's manifestations of support and kindness that she had to exert iron self-control to hold back the tears. Also, the look sometimes caught on camera and mistaken for sovereign displeasure was in fact nothing of the kind. It was simply the expression that anyone can have in unguarded moments when the features are in repose. With characteristic wit, she called this her "Miss Piggy face."
As a constitutional monarch, she had to be rigorously impartial, but on one occasion felt compelled to issue a statement deploring cheque-book journalism. This happened in the wake of the thirteen horrendous murders committed by serial killer Peter Sutton between 1975 and 1981.
After the death of Diana, Princess of Wales, the Queen was persuaded by Prime Minister Tony Blair to come to London and speak to her people. Only days before, baying crowds had demanded the Queen's immediate return from Balmoral. The mood was ugly. It was a watershed moment, when the monarchy was at risk as never before. The Queen's address "as a grandmother and as your Queen" to the crowd from Buckingham Palace and the tribute she paid to Diana had a calming effect on the volatile situation and immediately re-established the authority of the monarchy. Such was her almost earth-mother charisma. Her authority and compassion as Queen and matriarch were validated on other occasions, notably after 9/11 and during the Covid-19 pandemic.
For those of my generation, the Queen was part of our lives and a steadfast, constant presence since we were very young. We witnessed her evolution from a beautiful, fun-loving young woman into a superb head of state, and then the twinkly-eyed but feisty great-grandmother who was easily persuaded to take part in a sketch with James Bond. Many outstanding actors have interpreted her on screen. But nobody can ride side-saddle like the Queen. They have all accentuated a certain haughty primness, rather than her warmth and kindness. Her essence has eluded them.
Her parting gifts to us were a wonderful Platinum Jubilee and a hilarious, yet bittersweet, spoof with Paddington Bear. True to form, after the fireworks had gone out, she retired without fuss to her beloved Balmoral, where her brief candle flickered out humbly, quietly and discreetly.
Posted by Association member Julie Dixon