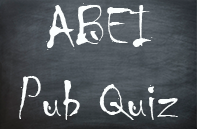 Feeling competitive? Fancy a night of good British fun? Then come and join the ex-pats for a pub quiz night at the Porta Pia pub!
The evening will begin at 6.30pm with drinks at the bar. A buffet meal will be served at around 7.00pm followed by the Quiz beginning at 7.45pm.
Questions will cover many subjects, here is a taste to get you thinking: –
Which musical featured the following songs Good Morning Starshine', 'Aquarius' and 'Easy to be Hard'.
A koala bear is not a bear – what type of animal is it?
Which tennis player released the 2013 book 'The Outsider: My Autobiography'?
All proceeds from the evening, after covering costs, will be donated to the Rome Samaritans, a charity that provides an English speaking helpline service to ex-pats in Rome.
Donation for association members €20.00 and guests of members €25.00
Includes participation in quiz, door prize raffle and buffet dinner. Drinks may be acquired separately at the bar.