The association is happy to learn that Harry Shindler (MBE), one of the founders of the Association of British Expats in Italy, has recently been awarded an OBE (Order of the British Empire) for his relentless work in supporting the rights of British nationals oversees.
Our sincerest congratulation to Harry on his exemplary work!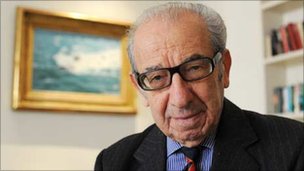 Harry has been featured in: 
The Local
The Guardian
Wanted in Rome
Italy Star Association
and also on various social media outlets.
Harry Shindler has worked thirty years and more for Anglo-Italian relations, for the rights of British ex-pats in Italy, for the Italy Star Association, and perhaps most importantly of all in keeping the memory alive of the British servicemen who fought and died to liberate Italy in World War II. His work includes talks in schools and universities, to educate young students and raise the awareness of young people on why the war was fought. He has worked tirelessly in helping to find the graves of British servicemen killed or listed as missing in action during the Second World War and he has recently helped Pink Floyd musician Roger Waters discover the battlefield scene where his father was killed near Anzio, when Waters was an infant.